How We Market Your Home With Video and Photos
Aerial Quadcopter Tours of Your Home
At Aprilian Homes the sky is no longer the limit! We are taking the marketing of your home to new heights by offering aerial video tours of all of our listings. When you list with us you get access to our state of the art Aerial Quadcopter that shoots 4k video at up to 30 frames per second and shoots 12 megapixel photos, from up to 400ft in the air.
This new and exciting technology benefits our sellers by allowing potential buyers to see as much of your property as possible from the convenience of their computer, tablet or mobile device. This technology saves our sellers time by eliminating unneeded showings allowing us to show their homes to a wider, but more specific audience of buyers, and in turn get an acceptable offer on the table faster than ever before.
---
---
Video Walk-through of Your Home
At Aprilian Homes, we go one step further with our marketing package with professional interior video tours of all our listings allowing prospective buyers the chance to take a virtual walk through of the property. The benefit to our sellers are the same as our aerial videos; convenience and exposure, all while driving only the most interested, and qualified buyer prospects to your home. Our tested and proven marketing methods allow us to sell your home for the price you deserve with less showings,less time out of your house,and less time having to keep your property in prime "showing condition".
---
Professional Photography
Visual aids are one of the most effective means of marketing your home to a potential buyer. Professionally done photographs of your home can inspire a buyer to take action and make an offer on your home. According to a study on Chicago-area real estate sales completed by VHT Studios, homes that were professionally photographed sold 32% faster than those not photographed by a professional photographer. Eva Oliver of Coldwell Banker, Miami Beach said, "Photos are the first impression prospects and realtors see online and on the MLS. If a property fails to give a good first impression online, then it's possible your listing may not be shown,"(1) We understand how vital that first impression which is why we always use a professional photographer to capture our listings.
(1) https://www.vht.com/news/professional-photography-sells-homes-faster.aspx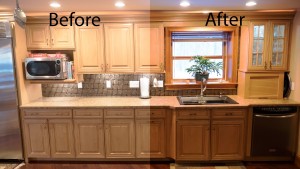 ---
Besides beautiful and exciting media tours to display your home at it's best, we also employ a variety of marketing strategies to get your home maximum exposure to your home buying audience through television ads, social media, proactive marketing, and a dedicated Lead Marketing Agent to get your home out to the home buying audience.