Aprilian Homes Free Staging Assessment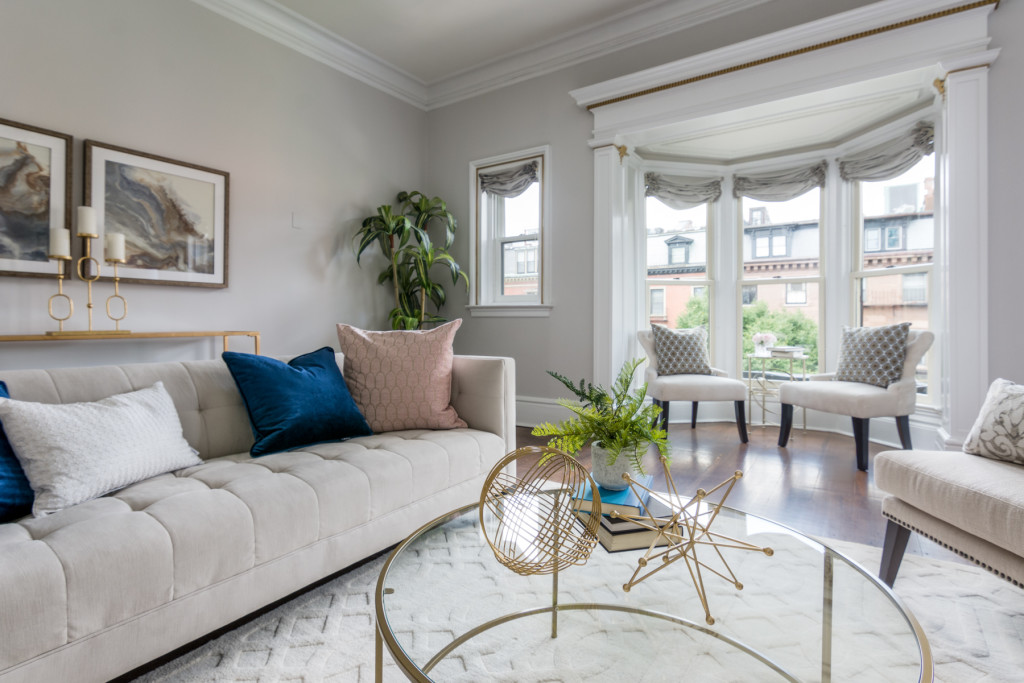 ---
Getting You The Best Price
At Aprilian Homes we understand that homes show and sell best and for a higher price when they are presented in the best manner possible. The way that we have discovered is best is to "stage" the homes for photos and showings. The challenge is that homeowners are reluctant to put up the cost of

staging

a home (typically several thousand dollars or more) for something that is not a direct improvement to the home. 
We see such value in

staging

that we are willing to offer a few things of value that will differentiate ourselves from the competition when choosing an agent to sell your home. 
---
12 Reasons Why
1) Free 1 hour

staging

consultation. When you choose to schedule a listing appointment with us simply tell us you would like a

staging

consultation and we will bring along our team member from Buyers Desire Home Staging.
---
2) Certain properties and price points will be eligible for FREE

STAGING

! Included in the commission that is due when the property closes. Because we see such value in

staging

and we know that it will command a higher sale price, we are willing to bear that expense. 
3) You will increase the likelihood of a sale. When selling your home the goal is typically to sell it for as much money as possible in the shortest amount of time. You can increase your chances considerably with

staging

. 
4) It gives the impression of a well maintained home. When buyers are walking through your home for the first time, they are making observations on various levels. Obviously, they want to feel comfortable inside the home. They also want to make sure that it meets all of their needs from a structural standpoint (size, layout, number or rooms, etc.). But they'll also be looking for clues that indicate the true condition of the home.
5) You get a head start on packing. You have to pack up all of your belongings eventually, before you can move. So why not start now?
6) It helps you justify the asking price. Home buyers today are savvy about property values and what other properties are selling for thanks to the internet. 
7)

Staging

makes the house seem larger. The art of home

staging

has a lot to do with space. You want to remove clutter and arrange furniture in a way that maximizes usable space within the house. This gives the impression that the home is larger than it actually is.
8) Every room now has a purpose. Buyers should never have to guess the purpose of a room. Most of us have a certain room in the house that serves multiple purposes.
9)

Staging

helps buyers see themselves in the house. As an agent our job is to help people see themselves living in your home. We do this by "de-personalizing" the house, and decorating in a neutral way that appeals to the masses.
10) It puts your house above the competition As a seller, you have a lot of competition. You can bet that would-be home buyers have seen other houses before visiting yours, and that they'll see more when they leave. What makes your house stand out from the rest?
11) Buyers will have a favorable first impression. You've heard the phrase "curb appeal" before. This is the positive first impression people get when they pull up to your home. But you can't achieve curb appeal unless you stage the house effectively.

Staging

doesn't just occur on the inside. It happens on the outside as well — or at least it should.
12) You get the buyers agent on your side. Real estate agents walk through homes all day long. This is especially true for the buyer agents, who might have to show dozens of homes to please their clients. Many of the homes the agents visit will be poorly staged. They'll have oversized furniture, antiquated wallpaper, and shelves full of clutter. So when an agent walks into a house that has been staged properly, they can get pretty excited about it. Trust me, I've seen it happen.
---
---
Please contact us today so we can show you how Aprilian Homes can sell your home for the price you deserve, in the shortest amount of time.
*Additional Qualifications may apply. This is a specific program and does not apply to every home we list.
---